Hey guys, Here is the beginning of the restoration of my 79 F-350 Crew Cab. The truck has p/s, p/b, a/c. It is brown and tan tu-tone. When I bought the truck from a friend a few years ago, it had no bed on it. Since the F-350 Crew has narrow frame rails I couldn't use any bed. Every night I'd search Craigslist and E-bay for a bed. Well, one finally came up that was in great shape. But, it wasn't close. I'm in Massachusetts and this bed was in Kentucky. It was a long drive, but worth it. The bed was recently off a California truck. The seller used the cab for a 4x4 crew cab 250 project with a short bed. I ended up buying the frame and a few hub caps too. The frame was really nice. It still had a lot of original paint. After a couple years of sitting in the humid Berkshires the frame tuned a nice shade of brown.
Here is the truck now. Unfortunately, the only picture I could find was of an old forklift I have with the F-350 in the backround.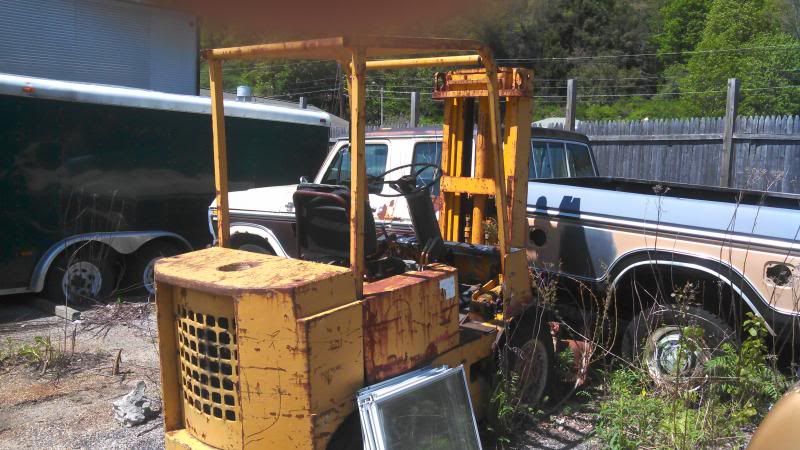 The forklift isn't lifting the bed. when I brought the bed home I set it on the back of the truck frame. After a storm I found a pond in the bed. To avoid standing water I used an 8x8 to prop up the front of the bed.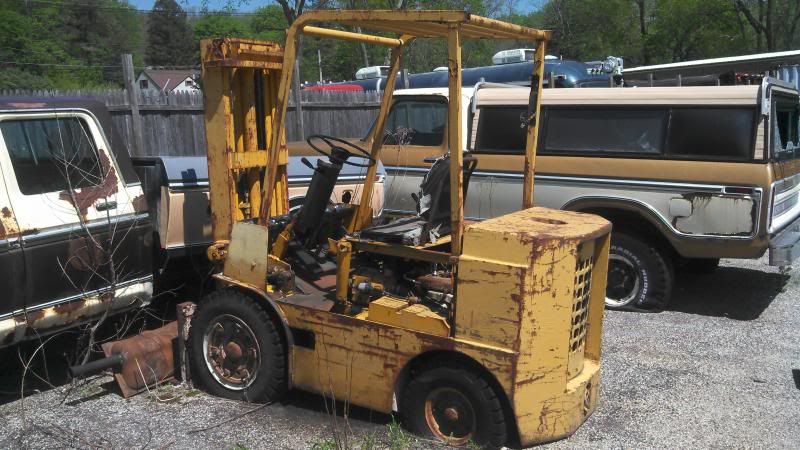 The first step in the restoration of this F-350 is to sand blast, prime and paint the frame. It took most of Monday to get the little odds and ends off of the frame and get it mounted on a rotisserie. I had to run to the local industrial supply house to buy a long piece of 2x2 box tube to extend the rotisserie to 25 feet.
The rotisserie and sand blaster are in place. Next I need to get the fresh air fed blasting hood. Wow, does this stuff add up. Luckily, I have a bunch of projects ahead of me, so I'll be using this equipment for a long time.
When I get a good day of weather with a light work load I will sand blast the frame then hit it with a light coat of self etch, 2 coats of epoxy primer then use black single stage urethane with some flattening agent to make the frame semigloss. Hopefully things line up to let this happen soon.
thanks,
Mark
Berkshire Transmissions
North Adams, Massachusetts