Nice. Looks very similar to the HOK Galaxy Grey
T3
Yup, that guy, the hooligan.

Somewhere out there is a tree, tirelessly producing oxygen so you can breathe. I think you owe it an apology.
---
as far as brand of paint It should be PPG
1968 Standard, 302 2v, 3 speed.
---
Registered Member
Posts: 4297
Joined: 25 Dec 2010, 20:35
Location: Sumter, South Carolina
I like your color choice.
Steven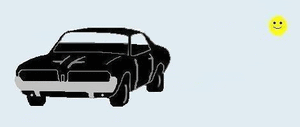 Our Cougars

1967 Standard
Dan Gurney Special
6.5 Litre, Black / Black, AC Whisperaire, Am/FM, Sports Console,
Front and Rear Bumper Guards, Clock

1968 XR7-G
302 4V, Lime Frost / Black Leather, AM/FM, Black Vinyl, Tilt-A-Way
Heavy Duty Suspension, Power Disc Brakes, Rader Wheels
1968 XR7-G Hertz
390 4V, Black Cherry/ Dark Red Leather, Black Vinyl, Sunroof, Tilt-A-Way,
Cruise, Rear Defrost, AC Whisperaire
1968 Convertible Conversion "Top Cat"
Standard, 302 4V, XR7G Console, XR7G Front Valance, XR7S Taillight Bars
---
Got the doors hung on Friday. They might need a few adjustments still since I guessed at setting the gaps. Found the specs in the manual so I'm going to double check em before calling it good.
Also got the deck lid on too but that needs adjustment still to be happy with it
1968 Standard, 302 2v, 3 speed.
---
Quick question, working on mounting the rear quarter extensions and it looks like the nuts need some sort of rubber washer to seal from water intrusion to the truck.? I found the nuts on wccc but they didn't appear to have any rubber attached?
1968 Standard, 302 2v, 3 speed.
---
Supporting Member

Posts: 2089
Joined: 07 Mar 2011, 13:18
Location: Michigan
Get some 3m strip calk and apply it to the inside cup of the washer. Once tighten it will flow out and provide the seal. You can get it at your local body shop supply store. Also works great for making a seal to install the gas tank.
https://www.3m.com/3M/en_US/company-us/ ... 020&rt=rud
Brian Carpenter, President CATS classic Cougar club
67 Cougar road course racer
67 Cougar project car
67 Cougar GT
68 XR7-G trailer queen restoration.
68 Restomod
69 Boss 302 Eliminator
69 XR7 390 survivor
69 XR7 428CJ 4spd
70 Boss 302 Mustang
1993 Harley Davidson
2004 F250 diesel
2004 Jeep Overland 4.7L H.O.
78 Ford F 150 Ranger
08 Cobalt SS
---
Thanks Brian for the suggestion. I actually have a box of the strip caulk. I honestly do not not care for it and avoid using it unless necessary. Obviously for the fuel tank, front fenders etc its needed in those locations but it tends to make a mess when wrapped around bolts. Maybe that is just me tho. For this application I prefer to find the correct hardware to replace.

I found the complete kit for 9 bucks that has the studs, nuts with rubber and washers attached to the nuts so that should work just fine. I could get away just using the nuts but the studs are kind boogered anyway and ones missing so better to just buy the kit.
1968 Standard, 302 2v, 3 speed.
---
Just an FYI. If you want to add speakers in the front kick panel locations, now is the time to make the cut outs.
Bill Basore, Editor / Publisher
Legendary Cougar Magazine
Currently in the Cat House
'67 XR7 GT 390 4 speed, AC, AM FM, Lime Frost Green
'68 XR7-G 428CJ C6, Tilt-Away, AM, Black Cherry
'68 XR7-G 390 4 speed, Sunroof, Cardinal Red
'68 XR7 GT-E 427 C6 AM Cardinal Red
'68 XR7 resto mod 351W, soon to be AOD, Black Cherry
---
Thanks bill, I have been kicking around that idea for a couple weeks. Part of me wants to do it and the other part is asking myself how much am I really going to be listening to the radio? However it can't hurt to add the pods just in case. It will be a little bit until I get the front end back together and to paint so I have a little bit of time to decide. I have decided to pull the motor out and get the bay painted before the fenders go on. I won't have time for another week or so to dedicate a full days worth of work.
The hardest part is I literally walk by this thing for 8-10hrs each day all week and can't work on it! At least when it was in my garage I only saw it once a day! Now all it does is taught me all day long! I do steal an hour after work to do some small stuff when I can
1968 Standard, 302 2v, 3 speed.
---
off to paint, should see it back by the end of the week or so however It will probably get shelved for a few months. New baby on the way and lots of things to get done before the march arrival. You better believe I will sneak in a few hours here and there to keep this project moving as much as I can.
Grateful for the deal I was able to get on the body work, without it there would be no way it would be painted already!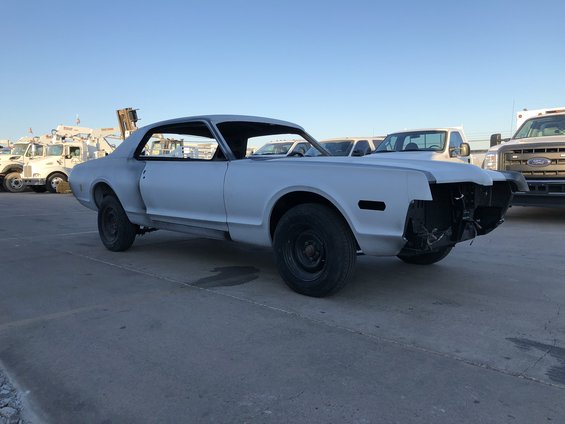 1968 Standard, 302 2v, 3 speed.
---