Awesome! Nothing like getting in and actually driving the car after all that work, nicely done. How do you like those new wheels, are you keeping them on the car?
-Mike

1968 Cougar Standard, 302 4V, auto, Madras Blue
---
Nicely done Andrew. Next time you need to do a burn out for us.
1974 Dodge Dart - daily driver
1963 Thunderbird Z code - raven black/red
1968 XR7 F code - diamond blue/blue
1968 XR7 J code - black/red
1968 J code - madras blue/aqua
1968 XR7 X code - lime frost/dark ivy gold
1968 GT-E XR7 W code prototype no. 500033 - cardinal red/black
---
Registered Member
Posts: 4330
Joined: 25 Dec 2010, 20:35
Location: Sumter, South Carolina
Andrew your Cougar looks excellent! That interior is gorgeous.

Steven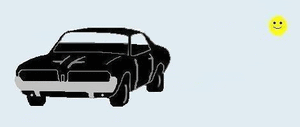 Our Cougars

1967 Standard
Dan Gurney Special
6.5 Litre, Black / Black, AC Whisperaire, Am/FM, Sports Console,
Front and Rear Bumper Guards, Clock

1968 XR7-G
302 4V, Lime Frost / Black Leather, AM/FM, Black Vinyl, Tilt-A-Way
Heavy Duty Suspension, Power Disc Brakes, Rader Wheels
1968 XR7-G Hertz
390 4V, Black Cherry/ Dark Red Leather, Black Vinyl, Sunroof, Tilt-A-Way,
Cruise, Rear Defrost, AC Whisperaire
1968 Convertible Conversion "Top Cat"
Standard, 302 4V, XR7G Console, XR7G Front Valance, XR7S Taillight Bars
---
Thanks! I'm not totally sure on the wheels (
Legendary GT5
). They are a sample set that Don bought tires for, mainly to use for pictures and such. So I don't own them. I think Don's plan is for me to get used to them and end up buying them
I do like the look of them, but I was originally planning on going the "classy" route with skinny whitewall tires and either nice hubcaps or styled steel wheels. Not sure yet, we'll see!
-Andrew Chenovick
Photo/Video guy for
WEST COAST CLASSIC COUGAR, INC.
Side Gig:
FLYING A PHOTOGRAPHY
RIDES:
-1968 Mercury Cougar: original family owned, Polar White, 289-2V, auto, AC / "Snowball"
view project thread
-1973 Opel Manta: 1.9L, 5-speed (restored)
-1991 Mazda Miata: fun driver
-1992 Volvo 240 wagon: classy hauling machine
---
Nice work! Even that slow speed short trip is very rewarding isnt it?

I personally like the wheels you have on it now
1968 Standard, 302 2v, 3 speed.
---