Editors note: For me, when this site is at its best, it reminds me of hanging out in the garage listening to stories of shared experiences most always about our passion for Cougars and pretty much anything automotive. This month DieselD shares his story in his words. So pull up a shop stool, grab a beer, and come along for the ride.
What I found was not what I was expecting, It looked like a car exploded in his garage, parts are everywhere,
My name is Dustin Johnson, 38yrs old and born and raised in sunny Arizona. Married with 2 young kids ages 1yrs and 4yrs. Interestingly enough, my wife is also an native to Arizona as well which I meet 10yrs ago working at Sanderson Ford where I was working as a Senior Master Diesel Technician. I have been in the automotive field working at ford dealerships since 1999 and have had a life long passion for anything with an engine and wheels. In 2011 I left the dealership life to advance my career into management and currently responsible for a fleet of trucks operating for a local commercial tire company. Since then we married, had kids, and kept very busy just trying to keep up with life in general
I share a passion for anything mechanical with my father and today as adults we get to enjoy working on cars together from time to time when our busy schedules allow. Even at a young age I could not have idle hands, I would take everything apart to find out how it works or goes back together. It did not matter if it was a ink pen, toy, bicycle, RC car etc. I would "borrow" my dads tools to go take it apart and figure out how it worked. It will be interesting to see if our kids share this same passion down the line!
I have always loved anything vehicle related. From a very young age I would get under the hood of my dad's cars with him to see what he was doing . I always wanted to help, which most times resulted in being more in the way then anything else. Who remembers holding a flashlight for your dad only to get yelled at for pointing everywhere but where he was trying to look?!
Around 2001 or so my dad wanted to get another Mustang. He's owned several Mustangs when he was younger, but never held on to them for too long. He wanted something he could enjoy for years to come. We worked on that project together for the next few years and believe we finished the initial build around 2005.
At the time I was more interested in 4wd trucks and four wheeling in the desert than classic cars or hotrods. Being fresh out of tech school and starting my career as a technician I was picking up new skills. I took an interest into welding and fabrication and started building roll cages, bumpers etc. I even swapped suspension types on my 1993 bronco for better off-road performance. Eventually what was simply mild 4wd trails in the desert turned into harder and harder trails and more modified vehicles to drive those harder trails. This is where I learned a lot about swapping different types of parts from different vehicles to build something custom to fit my needs or desires. At one point what started as a 1988 Toyota pickup turned into a mostly tube chassis/body with parts from Tacomas, F150s, older Toyotas and who knows what else I picked out of a junk yard.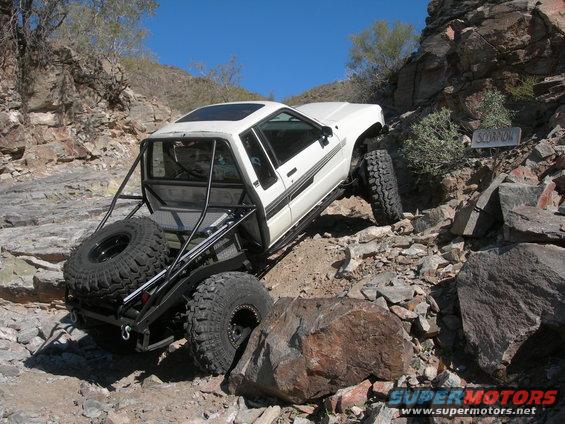 Being single with no kids at the time I would spend my nights and weekends wrenching , fabricating and modifying my rock crawler. Being a technician and wrenching all day had a tendency to burn you out on the desire to work on your own vehicle. I was getting tired of the constant wrenching that came along with working in the profession and at home on my own projects.
Getting married and having kids came at the right time. I was ready for a change in lifestyle. Although I loved wrenching in the garage all weekend I was getting burned out and wanted something different. Still loving the desert and off-road I bought a Polaris razor to having something to just turn the key and hit the gas. The bonus is the wife and kids got to ride as well.
With my career path taking on more of a management role I wasn't wrenching all day professionally, which brought back the desire to do so in my free time. Thus enter the Cougar…
Two years ago I decided I wanted a project of some sort. I started looking around at what I might want. Sure I could buy a complete car but I enjoy wrenching as much as driving them, So why not get something I could wrench on and enjoy at the same time? Not wanting to get back into the level of four-wheeling I had done in the past I started to reminisce about how much I enjoyed working on that 1967 Mustang with my dad. I decided I could do something similar but could put my personal touch and do all the things he did not want to do to his.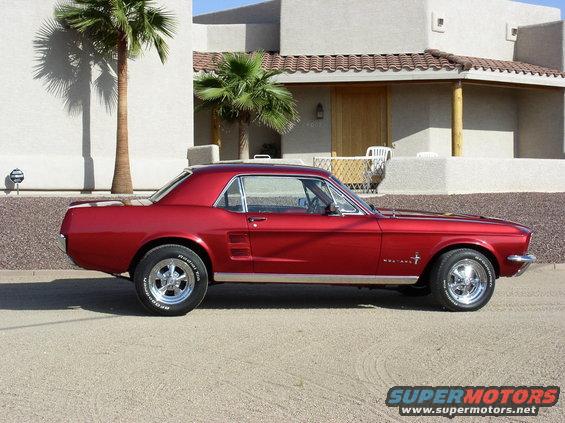 As I was researching and soul searching on what vehicle to go with I remember thinking when was the last time you saw a Cougar? I could not remember the last one I'd seen, and this planted the seed. Being similar to the Mustang, I was familiar with the bones of the car already and the Cougar has unique look that sets itself apart from its Mustang brother. Having helped with a MMustang build already it just felt right. So there it was, time to find a Cougar!
I think a lot of guys can agree sometimes it feels like a car will find you and not the other way around. As I set off on my search for a Cougar I did not have too much criteria besides what we all want. Solid sheet metal without rust, relatively complete and not hacked up, engine that runs etc. I had narrowed my searches down to 67-68s. They have always been my favorite styling with the 69 in a close second. I was not dead set on a particular year or option sheet but I did know I wanted to add my personal touch without fear of hurting the value of a rare collector car. Originality wasn't high on the list. I had a rough budget I was trying to work within but wasn't having much luck finding anything worth spending it on. Then I received an email asking if I was still interested in a Cougar and if so he might have something I'd be interested in. Not having high hopes with what I found so far, I didn't put too much credit into it.
A few emails and phone calls later I find out it was a '68 that he had owned since 1994. He drove it for a short time and decided to restore it around 1996. He started by rebuilding all the suspension, the transmission and rear axle. He had partially converted to disc brakes using a Granada setup. Under the hood he had installed an MSD ignition and distributor, Performer intake, and he also added a Hurst shifter. He then decided to take the interior and body apart to restore but life got in the way and the project came to a stop and sat in his garage for years until finally coming to terms with it never being completed.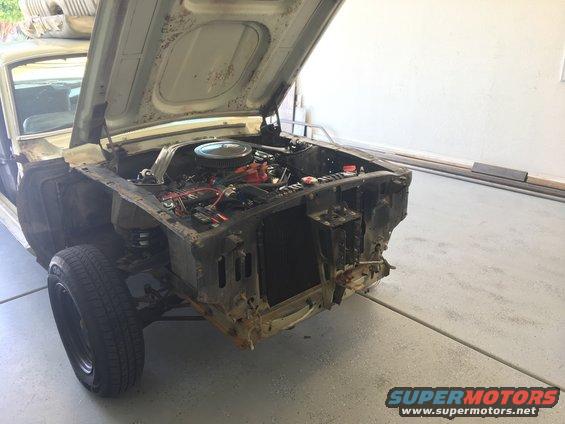 It had not been listed anywhere or even advertised until he came across my info and for some reason decided to reach out. As luck or fate would have it when I received the phone call about the Cougar I was traveling for work and I would be driving right through where this Cougar was located so I decided to stop and take a look. I wanted a project but not a pile of parts! Who knows how it was taken apart or stored so I was thinking to myself, this has to be bigger headache then it could be worth.
What I found was not what I was expecting, It looked like a car exploded in his garage, parts are everywhere, on top of that he had been collecting extra parts over the years for plans for this Cougar. The doors, bumpers, grille, taillights, trim, are all removed. The interior was completely gutted and torn down. On the plus side this made inspecting the car very easy. I could clearly see all the sheet metal and it was clear this was a southwest car its entire life. All the sheet metal was solid, not even a spec of rust in the hood or trunk lids. The body was straight and in the best condition I had seen. Vin numbers all matched up and it did not appear to be wrecked in any major way. Everything that he was telling me about the history, condition and parts all seemed legit. He had done an amazing job with bagging and tagging all the parts, labeling parts and even drew a couple diagrams to where certain clips or bolts came from. I got the "ran-when-parked" description on the engine which is always a gamble so that was a wildcard.
Spending a little time talking with him he was clear he did not want to part with it as it held some sentimental value with him and his family but he knew it was unlikely to ever get completed the way he would want it. On the other hand I somehow knew this would ultimately end up in my garage in the end.
I did not like the fact it was taken apart already. I feared what kind of mess I would get myself into. Not knowing if the engine would run or not could adversely affect my budget or what kind of expensive parts could be missing? But somehow this Cougar was calling my name from the time I laid eyes on it. After all it did find me and not the other way around.
Since I was buying someone else's disassembled project it was quite the event to just get it home. I had to reinstall the front fenders, grille, bumpers etc just to have enough space to get everything in my truck and on my trailer. The first order of business was to clean the years of dust off the car and off the engine and truly evaluate what I had. Then I had to get a game plan for the project. Since the engine was a big mystery and the only thing in the power train the previous owner did not have rebuilt and no history on, I decided to make that the first order of business. After changing the oil and filter, I tore down and cleaned the holly 600cfm carburetor. Then I replaced the fuel pump and tank along with clearing all the lines, To my surprise, the engine lit right off and ran surprising well. No smoke, no burning oil and it was running smooth. There was no evidence of a rebuild, and with VINs matching the car, it was quite possibly the original engine. Documentation puts the mileage right around 128k so its unsure how long it will run but for now we will call that a win.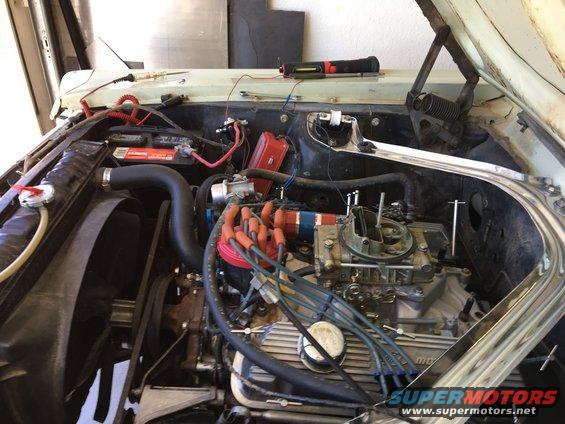 After the engine was confirmed to actually run I moved on with evaluation of the car. Sheet metal was great and appears the front and rear valances had been replaced with OEM parts at some point. This matched the damage I found in those areas. The Cougar appeared to have hit a parking curb or similar at some point, also had the typical tow truck damage around core support/strut rod mounts. Other then that all sheet metal was original with no repairs. I decided to take on the body work first since the suspension, engine, transmission, and rear axle were all in good shape.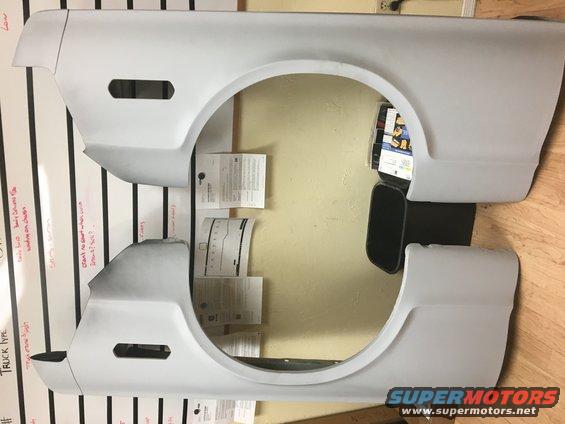 I did have to finish the disc brake conversion. The previous owner couldn't figure out why it wouldn't stop very well after the Granada brake swap. Not replacing the manual drum brake master cylinder would be the root cause. Now that the car was moving under its own power it made it easier to move it around and transport it to where it would need to go for paint.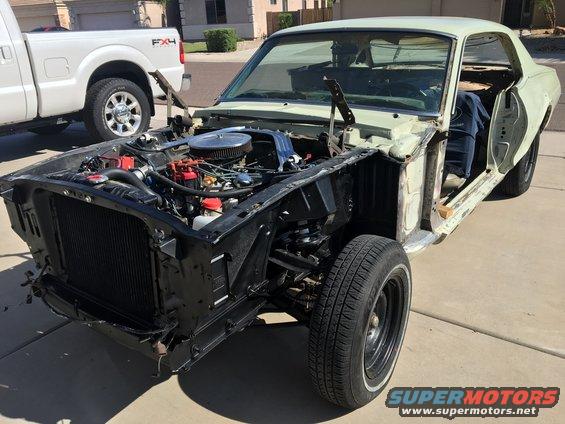 Since the body shop was around the corner from my shop at work I was able to drive it back and forth and save body work costs by helping fit panels. First the body shop prepped and sprayed all the door jams, interior etc. Then I brought it back to the shop and hung all the doors, fenders, hood, trunk lid etc. and lined everything up. Then it went back to the body shop for the final body work and paint. I choose a factory Ford color called Magnetic from a 2017 F250. From the very beginning I had this color in mind for my Cougar. Body work and paint took about 3 months from start to finish. I waited another 90days before assembling anything to allow for a full cure time.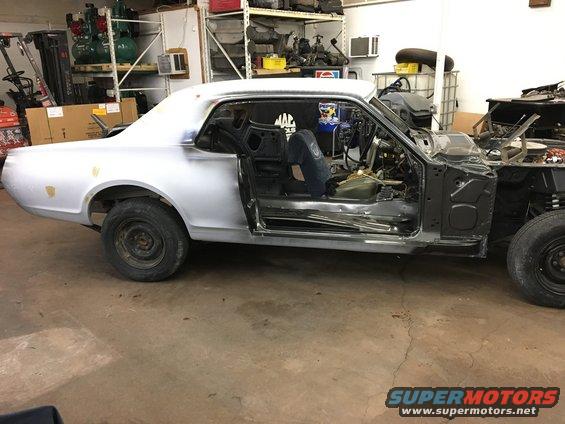 After paint and body work I started on assembly of the headlights and taillights that I had already restored while waiting for the body work to be completed. Not having a lot of cash flow for parts all at once I slowly bought what I needed as I could. A lot of parts could be restored and cleaned up without being replaced but things like bumpers and aluminum trim made more sense to buy already restored so it was done correctly. So far I have been working on this project for 2 years, carving out any time on the weekends I can get even if its just a couple hours or so.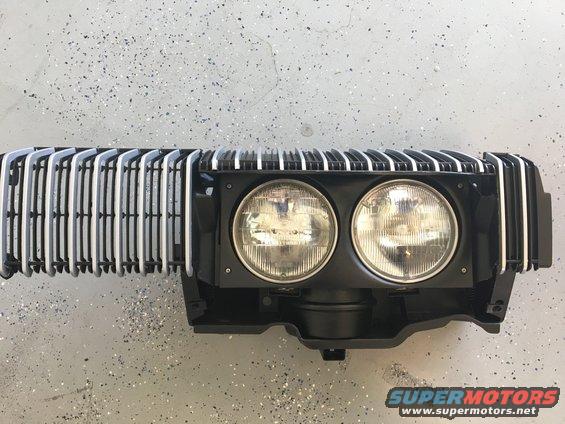 I have learned some new skills along the way as well. Like how to polish stainless trim. Not wanting to buy restored trim or the poor reproduction trim I bought a buffer and went to work. The results are not perfect but pretty good. I'm not building a show car, but rather a nice driver, and there is simply a satisfaction in doing it yourself that just can't be had any other way.
After most of the exterior stuff was complete I moved to the interior which is only partially complete at the time of this Ride of the Month. The dash pad has been replaced and all the gauges taken apart, cleaned, polished and painted. Since rechroming some of the parts is very costly, I choose to paint them instead which I have been happy with. It does give a somewhat custom touch and solves an expensive problem.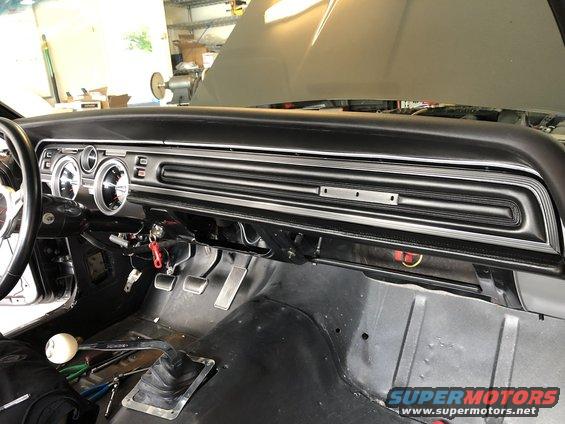 Future plans may involve replacement of the dash cluster and face plate entirely which is another reason not to spend the money on chrome plating. Next on the list of items are seats, carpet and door panels. Then wheels and tires. And finally, ensuring the drive train is really good to go and there are no issues there. So it seems like a short list, but there are plenty of challenges along the way. Like coming up with a way to restore and replace the current door panels. For each completed task, I seem to add 3 more that need to be done, but that is the fun in a project like this!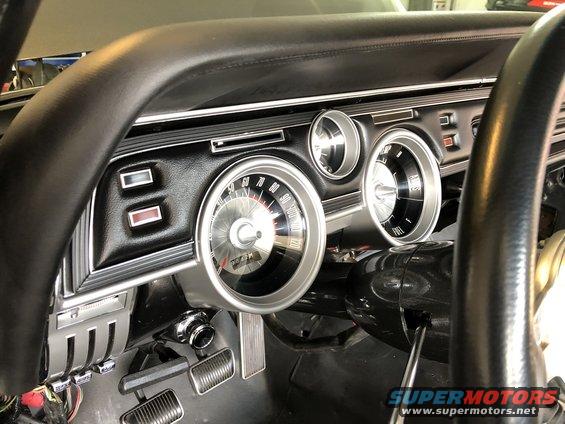 At this stage in the build I have to say my Cougar's best attribute is the exterior. I'm really happy with the color and how the body work came out. The restored front and rear of the car really tie it all together.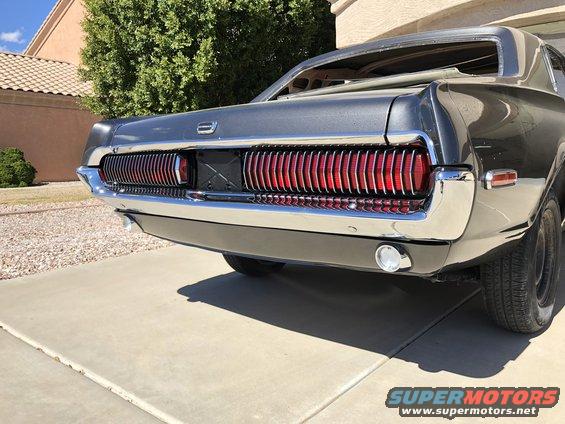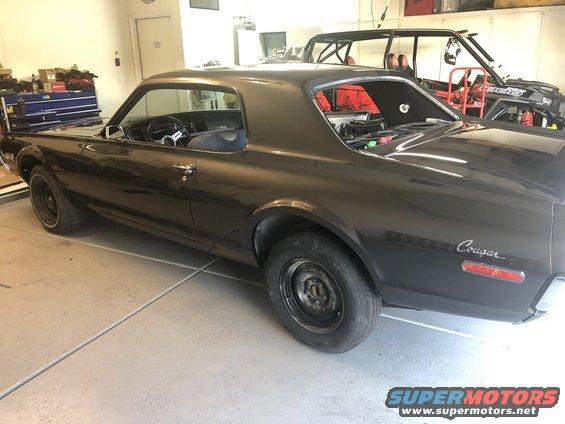 Once finished I may attend a few shows but I am not a huge fan of sitting around at shows. I would rather be driving my car then showing it. My build reflects my desire to drive the car rather then make it a show piece. I do enjoy the fact that it is not often you see a Cougar on the street or even an local event. My family does share some of the passion. My wife can't wait to take her first ride in the Cougar once its road worthy. My 4yr old son always wants to come out and work with me in the garage so hopefully he will share the same passion as he gets a little older. My father obviously shares the same love for classics and we hope to road-trip in his Mustang and my Cougar in the future.
In closing, I have been involved in a lot of different enthusiast community's over the years and I would have to say the Cougar community as a whole has been the most informative and helpful group of people I have come across. I hope to meet more of the community in the future.