Can anyone tell me how many 1968 R-Code Cougars were made? I can't seem to find that info even though I've been searching for hours.
---
It was stuffed into a backyard for a few years.
Attachments

IMG_3802.jpg (97.44 KiB) Viewed 1540 times
---
Registered Member
Posts: 4331
Joined: 25 Dec 2010, 20:35
Location: Sumter, South Carolina
It's a rare Cougar. If I'm not mistaken 101 428CJ Cougar's were built.

Steven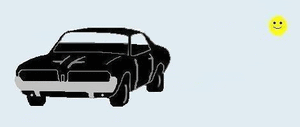 Our Cougars

1967 Standard
Dan Gurney Special
6.5 Litre, Black / Black, AC Whisperaire, Am/FM, Sports Console,
Front and Rear Bumper Guards, Clock

1968 XR7-G
302 4V, Lime Frost / Black Leather, AM/FM, Black Vinyl, Tilt-A-Way
Heavy Duty Suspension, Power Disc Brakes, Rader Wheels
1968 XR7-G Hertz
390 4V, Black Cherry/ Dark Red Leather, Black Vinyl, Sunroof, Tilt-A-Way,
Cruise, Rear Defrost, AC Whisperaire
1968 Convertible Conversion "Top Cat"
Standard, 302 4V, XR7G Console, XR7G Front Valance, XR7S Taillight Bars
---
Some just emailed me and said it was 364 total 428-4V CJ Cougars produced, 64 of those were 4 spds. This one is an original 4spd with the "5" on the trans code and an "H" on the rear axle code for 3:50-1 TL I will be digging it out of the yard tomorrow.
---
Here is a shot of the R-code apron bracing. It will need a roof, but it has the original drivetrain in it so it seems worth doing. I ordered a Marti-report on it so I should know more about it soon. Like if it is a real GT.
Attachments

IMG_3813.jpg (78.38 KiB) Viewed 1533 times
Last edited by
karguy12
on 03 Sep 2018, 20:43, edited 1 time in total.
---
1968 R code production numbers per CBTN.

4 speed standard - 48
4 speed XR-7 - 16
Automatic standard - 79
Automatic XR-7 - 101
Total - 244

Randy Goodling
CCOA #95
---
Perhaps that does not include the R-code GTE's or GT's. I don't know. I'm happy with a one of 64 or a one of 48!
---
The numbers in CBTN should include all R codes including the GTEs and GTs. You could double check with Bill Quay or perhaps Jim Pinkerton as to the correctness of the numbers. I am not aware that they are incorrect though. If you add the 48 4 speed standard and the 16 4 speed XR-7s you will get a total of 64 4 speeds. Once you own the car I would suggest purchasing a Marti report as that will show you the breakdown. Plus you can request special breakdowns.

Randy Goodling
CCOA #95
---
I bought the car today. Jim Pinkerton was who emailed me those numbers. I also ordered the Marti-report. I also bought a 1969 Cyclone Dan Gurney 351 4spd car from the same guy. Will be dragging the Cougar home tomorrow, and the Cyclone home on Wednesday, but both cars are paid for with papers in hand.
---
Congrats on the find! How did you happen to find it and more pics please
1970 Mach 1 428 SCJ Grabber Green project
1970 Boss 302 Bright Gold Metallic
1968 Jeep Jeepster Convertible
1978 Jeep Wagoneer 4x4 project
1982 Chevy C10 Stepside 4x4
1984 Dodge Ramcharger Royal SE

Wanted:
1968-1970 428 CJ Cougar 4 speed
1970 Boss 302 Eliminator
1968-1970 428 CJ Mustang Coupe 4 speed
---