Registered Member
Posts: 205
Joined: 16 Dec 2015, 16:01
Location: Evanston, IL.
Contact:
---
Color: green? Lime Frost? Hard to tell. It looks very similar to one I didn't purchase off ebay a few years back, right down to the pushed in right front turn signal.
I would consider it to replace my now rusted out '67, and part with the GT that is awaiting restoration.
---
Registered Member
Posts: 4297
Joined: 25 Dec 2010, 20:35
Location: Sumter, South Carolina
It looks like a Lime Frost Cougar.
Steven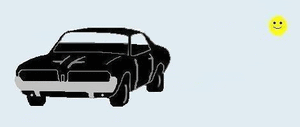 Our Cougars

1967 Standard
Dan Gurney Special
6.5 Litre, Black / Black, AC Whisperaire, Am/FM, Sports Console,
Front and Rear Bumper Guards, Clock

1968 XR7-G
302 4V, Lime Frost / Black Leather, AM/FM, Black Vinyl, Tilt-A-Way
Heavy Duty Suspension, Power Disc Brakes, Rader Wheels
1968 XR7-G Hertz
390 4V, Black Cherry/ Dark Red Leather, Black Vinyl, Sunroof, Tilt-A-Way,
Cruise, Rear Defrost, AC Whisperaire
1968 Convertible Conversion "Top Cat"
Standard, 302 4V, XR7G Console, XR7G Front Valance, XR7S Taillight Bars
---
Supporting Member

Posts: 2091
Joined: 07 Mar 2011, 13:18
Location: Michigan
Sage Gold Metallic, Z code. Here it is on an XR7 with the paint in better condition. I bet the craigslist cougar would clean up nicely. Also known as Sauterne gold on a Mustang. Don't see very many cars paint this color. I'm in the process of deciding if I should return my 67 GT back to this original color. Seems to be a lot of different shades to this color depending on the mixing formula of the paint. I test sprayed a sample and it had more metallic and silver with a touch of green. I think it's one of those colors where no two are ever the same with todays paint formula.
Attachments

DSC02154.jpg (105.54 KiB) Viewed 446 times

49fd_3jpg_Thumbnail1.jpg (119.76 KiB) Viewed 454 times
Brian Carpenter, President CATS classic Cougar club
67 Cougar road course racer
67 Cougar project car
67 Cougar GT
68 XR7-G trailer queen restoration.
68 Restomod
69 Boss 302 Eliminator
69 XR7 390 survivor
69 XR7 428CJ 4spd
70 Boss 302 Mustang
1993 Harley Davidson
2004 F250 diesel
2004 Jeep Overland 4.7L H.O.
78 Ford F 150 Ranger
08 Cobalt SS
---
As the owner of a Sage Gold Cougar that would also be my guess on the Craigslist find. Sage gold seems to look a bit more green in the shade.
Brad
'67 standard
---