Supporting Member

Posts: 342
Joined: 18 Aug 2015, 17:51
Location: The arm of Taxachusetts, Cape Cod
Last edited by
rcode
on 14 Jan 2018, 12:49, edited 2 times in total.
69 XR7 CJ Black plate Triple R car, original selling dealer:
Star Lincoln Mercury, Glendale, CA
03 Cobra (ordered new)
LaBelle Ford LaBelle, Fl
"Tonight, We Ride"!
---
What's up with the wood grained trim and door speakers?
There is never time to do it right, but always time to do it over

67 Cougar restomod
69 Elim. 428 SCJ orange/ white
CCOA 7574
---
Registered Member
Posts: 328
Joined: 02 Nov 2011, 17:27
Several things look incorrect, I doubt it will hit the pre-auction estimates. If this is original paint, it doesn't look like the pinch welds are blacked out....
---
Registered Member
Posts: 285
Joined: 09 Nov 2011, 05:05
Location: Beloit WI
I think the engine paint color is to light and has been repainted. Do not think is an original 20,000 mile car.
Randy Feuillerat
67 XR7 GT 390 4V
68 390 X code XR7
68 XR7-G 302 2V
70 XR7 Convt 351 2V
70 Eliminator 351 4V 4 speed
---
Registered Member
Posts: 4329
Joined: 25 Dec 2010, 20:35
Location: Sumter, South Carolina
I checked the link and it's showing as sold. The wood grain dash pieces definitely stand out, they are even peeling around the radio. Overall it's a nice looking Eliminator but for the price I'd want everything spot on factory original.
Steven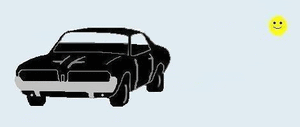 Our Cougars

1967 Standard
Dan Gurney Special
6.5 Litre, Black / Black, AC Whisperaire, Am/FM, Sports Console,
Front and Rear Bumper Guards, Clock

1968 XR7-G
302 4V, Lime Frost / Black Leather, AM/FM, Black Vinyl, Tilt-A-Way
Heavy Duty Suspension, Power Disc Brakes, Rader Wheels
1968 XR7-G Hertz
390 4V, Black Cherry/ Dark Red Leather, Black Vinyl, Sunroof, Tilt-A-Way,
Cruise, Rear Defrost, AC Whisperaire
1968 Convertible Conversion "Top Cat"
Standard, 302 4V, XR7G Console, XR7G Front Valance, XR7S Taillight Bars
---
Pinch welds are blacked out in the center but not on the lower rear quarters as I have underside shots of the car at MCACN when Mecum had it on display there. They never had the hood up when I was there though. But what wasn't mentioned in the Mecum write up is the dent / ding in the left fender and I think it was the left B pillar had one too, like something fell on the car in the garage. I thought I took pix of those, but can't find them. The car really looks to be low miles but things have been changed, 69 air cleaner, Argent rims from Mach 1 or Cyclone, speakers cut into the doors, the wood grain trim. And with minimal effort / cost most things can be corrected if one wants. Part of the price is factory spoiler delete and 4.30 Drag Pak car. It really is a decent car, but in my opinion not as nice as Dave's Waco BOSS.
---