Thought you might enjoy this. Just another thing I found cleaning out the car!
1967 Standard, 289 4 barrel
---
Registered Member
Posts: 398
Joined: 25 Dec 2010, 02:26
Location: Around FT. Bragg, NC
Now that's cool!
_______________
Daryl

Previous: 69 XR7 Hardtop, 351W, FMX
Current: 69 XR7 Convertible, Tweaked 351W, TL 4 Speed (Almost completed restoration--drive all the time, but you are never really done!)
Current: 70 XR7 Convertible, 351C, TL 4 Speed Grabber blue (Yet to be restored--waiting patiently)
---
That's very cool. I am guessing the paint is no longer any good. But still, a nice thing to have and display.
69 XR7 San Jose built
Always under construction
Slightly improved 351W
CCOA member #9421
---
Registered Member
Posts: 4303
Joined: 25 Dec 2010, 20:35
Location: Sumter, South Carolina
That is a cool find. If you take your Cougar to car shows I'd display it with your car.
Steven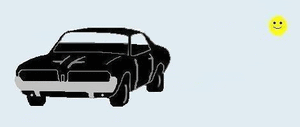 Our Cougars

1967 Standard
Dan Gurney Special
6.5 Litre, Black / Black, AC Whisperaire, Am/FM, Sports Console,
Front and Rear Bumper Guards, Clock

1968 XR7-G
302 4V, Lime Frost / Black Leather, AM/FM, Black Vinyl, Tilt-A-Way
Heavy Duty Suspension, Power Disc Brakes, Rader Wheels
1968 XR7-G Hertz
390 4V, Black Cherry/ Dark Red Leather, Black Vinyl, Sunroof, Tilt-A-Way,
Cruise, Rear Defrost, AC Whisperaire
1968 Convertible Conversion "Top Cat"
Standard, 302 4V, XR7G Console, XR7G Front Valance, XR7S Taillight Bars
---